Starters Orders 5 Mac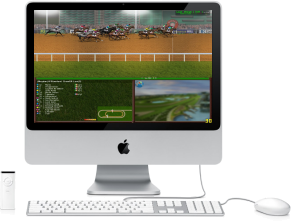 Click here to go to the Mac App Store STARTERS ORDERS 5 page. £19.99.
DEMO NOW AVAILABLE: Download the free Starters Orders 5 (Apple Mac) demo now by clicking here (129mb).

IMPORTANT: The Mac game is only available via the Mac App store (£19.99 sterling). Do not click the BUY NOW (top-right on this page) as this button relates to the PC version only!
For a list of improvements over Starters Orders 4 please go here. Please also note that the Mac version of Starters Orders 5 now includes improved screen mode selection, A functional construction kit, horse export options and a schedule editor (which were not included in SO4 Mac).
Following purchase please RATE and if possible Review this game. It helps boost the games iTunes ranking!
__________________________________________________________________________

For Technical support/trouble shooting please click here.

Mac Starters Orders 5 features:
Train, own, breed, bet, ride and race with the most realistic horse racing game available.
Vast horse racing game world with thousands of horses and realistic race commentary.
Fields of up to 40 runners with the most realistic races ever in a computer game!
The only game ever to accurately simulate UK jumps racing with a full realistic calendar including the Aintree Grand National and Cheltenham Gold Cup and hundreds more!
Hundreds of world-wide premiere races such as the Melbourne Cup, the Breeders Cup, the Cheltenham Gold Cup and the Irish and Aintree Grand National.
Dynamic never ending horse racing game world. Play season after season.
Play either UK (flat or jumps), IRE (flat or jumps), US (flat) or Australian (flat) game modes! Six horse racing games in one!
Stewards enquiries, non-triers, fines, photo finishes, accurate handicapping and many, many more realistic features.
A realistic Horse Racing Game with unrivaled accuracy and simulation detail,
that "…will keep the enthusiast gripped." Computeractive Magazine
The Mac version of Starters Orders 5 is available via the Apple Mac App Store for £19.99 or equivalent in local currency.


Screenshots