Starters Orders 4 Mac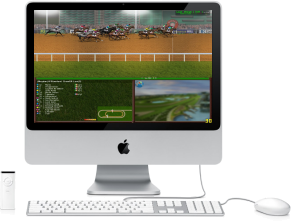 This version has now been superseded by the newer 'Starters Orders 5′. Please click here to go to the Mac Starters Orders 5 page.
__________________________________________________________________________

For Technical support/trouble shooting please click here.

Mac Starters Orders 4 features:
Train, own, breed, bet, ride and race with the most realistic horse racing game available.
Vast horse racing game world with thousands of horses and realistic race commentary.
Fields of up to 30 runners with the most realistic races ever in a computer game!
The only game ever to accurately simulate UK jumps racing with a full realistic calendar including the Aintree Grand National and Cheltenham Gold Cup and hundreds more!
Hundreds of world-wide premiere races such as the Melbourne Cup, the Breeders Cup, the Cheltenham Gold Cup and the Irish and Aintree Grand National.
Dynamic never ending horse racing game world. Play season after season.
Play either UK (flat or jumps), IRE (flat or jumps), US (flat) or Australian (flat) game modes! Six horse racing games in one!
Stewards enquiries, non-triers, fines, photo finishes, accurate handicapping and many, many more realistic features.
A realistic Horse Racing Game with unrivaled accuracy and simulation detail,
that "…will keep the enthusiast gripped." Computeractive Magazine
The Mac version of Starters Orders 4 is available via the Apple Mac App Store for £19.99 or equivalent in local currency.


Screenshots